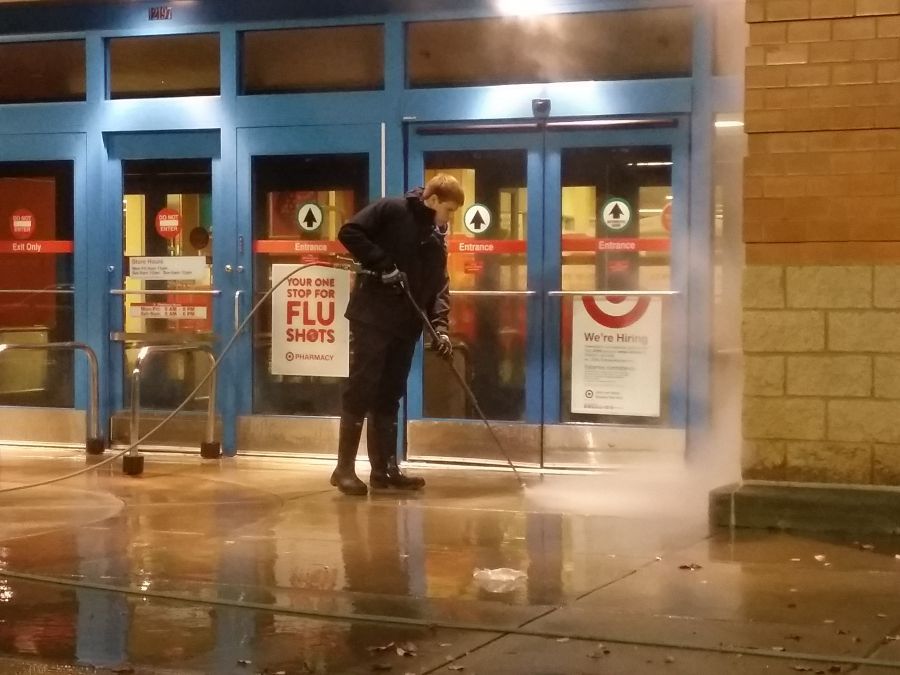 Power washing your business and surrounding property is like giving it a facelift. It can be the difference between dingy and grimy and fresh and inviting. Not only can it boost the curb appeal of your business front, but it can also be useful as a regular maintenance tool to keep rust stains, graffiti, and general dirt at bay.
In order to get the job done right, you must know the right cleaning solutions, power settings, and water temperatures to use. The highly trained crew at Wilson's Power Washing and Sealing know the in's and outs of power washing and are the perfect choice for businesses who are interested in adding this cleaning method to their maintenance regimen.
Commercial Services
Wilson's Power Washing & Sealing cleans the sidewalks, seats, and benches around playgrounds, soccer fields, and much more. There is no space too large or too small to benefit from power washing. Modern commercial and retail businesses demand to be kept in tip top shape in order to appeal to new clientele. A clean building is not only attractive, but also lets others know that you take pride in everything you do. For all commercial exterior cleaning duties, Wilson's Power Washing & Sealing is the answer.
Our company has built its reputation working for numerous organizations and individual businesspersons. Our crew is proud to serve gas stations, where we use hot water pressure pumps and specified detergents to clean oil and fuel from the surfaces. This contributes to the safety of the stations by making the floors less slippery and hazardous.
Many restaurants can attest to the fact that our services have been incredible for them. We have been on the frontline in making their sidewalks spotless and safe. We work diligently to eliminate any unpleasant smell in the stores, loading bays and kitchens. The services play a significant role in making the restaurants attractive to the clients and a safe working environment for the employees.
Our company employs sophisticated equipment that can work effectively with low or high pressure. Using the right pressure setting is crucial to not damage any valuable property in the area. Our machines are also capable of handling high water temperatures, and we can adjust these settings as well so that they do not harm your property either.
We understand what goes into a maintenance program, like open communication, water sourcing, time management, and procedure scheduling. If you are ready to get your commercial business sparkling clean, do not hesitate to call us today. We would love to be your trusted power washing team!
By Wilson's Power Washing and Sealing 8-24-2020