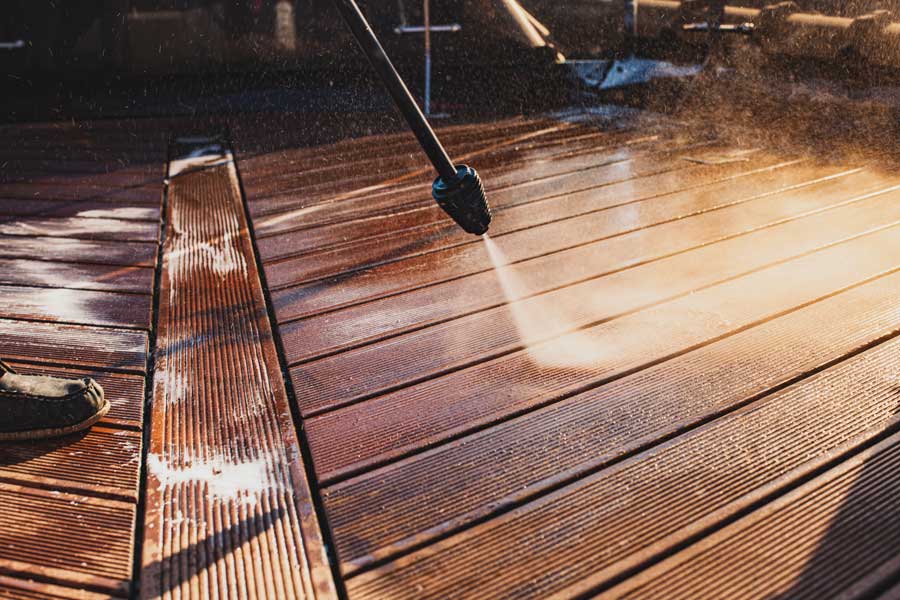 Many people see the value of power washing. In fact, it can become addicting to see how easily even stubborn dirt and grime can be removed when using a power washer. But because this tool is so powerful, there are some considerations that you should make before using a power washer to tackle any job. Here are some things you should know.
Know the Difference Between Power Washing and Pressure Washing
Power washing and pressure washing may seem like interchangeable terms at a glance, but they are in fact different. Power washing, as the name suggests, uses high powered, heated water to blast away stubborn materials from surfaces. This high pressure is not safe to use on every surface around your home. Using a power washer on your brick, decking, and masonry can lead to damage and deterioration.
Power washing is ideal for large driveways and for breaking up algae and mold on surfaces. Whereas, pressure washing is best suited for wooden decks, siding, and brick surfaces.
Know the Difference Between Cleaning Solutions
Power washing detergents are made specifically for different applications, that is why knowing which detergent is right for the job you are tackling will ensure the job is done thoroughly and without causing damage to the surface. Chemicals will be labeled based on their intended purpose, so be sure to read the label carefully. For example, sanitizers are for killing bacteria, cleaners are for removing dirt, and disinfectants are for killing organisms. A professional (like the ones at Wilson's Power Washing & Sealing) will know how to use and mix these chemicals properly. If you are not a professional, however, it is best to stick to purchasing premixed detergents. These premixed products will clearly state what application they are best suited for, such as driveways, decks, or brick.
Know What Not to Power Wash
As we touched on, not everything can stand up to the force of a power washer. Some things around your home are sure to become damaged if you try to clean them with one. A few examples are sandstone, roofing, stained wood, and anything painted.
You should also take care to never power wash near electrical outlets as well as people. The high pressure water can easily cause serious bodily injury to a person. So take care to wear protective gear when operating the power washer and make sure no one is near the stream.
Ultimately, power washing and pressure washing can be great tools for homes and businesses. If you want to make sure that this job is done right with the correct detergents, nozzles, and pressure settings, it is best to call a professional. Our skilled team at Wilson's Power Washing & Sealing would love to be a part of your maintenance routine.
By Wilson's Power Washing and Sealing 12-10-2021